ご挨拶
---
イーブレースCEOのFrank Huangです。
eBrace、eLockは、カスタマイズドリンガルブラケット システムです。セルフライゲーションのeLock、ライゲーションタイプのeBraceは患者さん一人一人のために設計されます。eBraceカスタマイズドリンガルシステムは2008年12月に最初に開発されました。eLockセルフライゲーションタイプは2012年に日本マーケットの強い要望により設計デザインされました。ワイヤー交換が大変しやすくなっています。

よりよい技術をドクターや患者さんへ提供できるよう、日々努めてまいります。
今後ともご支援、ご指導を賜りますようお願い申し上げます。
eBrace CEO's Message
to become a Stomatology Digital Platform
Since our foundation in 2008, based on CAD/CAM design and 3D Printing technologies, we have conducted our original research and development in customized lingual orthodontic area. We are continuously strived for the establishment of new businesses in order to realize our mission "to provide most magic tooling for stomatology". These efforts have allowed us to create new products and new technologies, as well as diversify our business fields. Currently, we operate our businesses on a global basis in the following five segments: Atheistic Orthodontic Appliance; Conventional Orthodontic Brackets; 3D Printing Equipment and Service; Orthodontics Virtual Setup Software; and Digital Stomatology Diagnose Platform.
"Stomatology Digital Platform" is the ideal future state of eBrace Japan. With the progress of Internet plus initiative and globalization, dynamic shifts are currently happen in many aspects of international society. eBrace Japan will accommodate new needs to be generated by such social changes, through the innovation and combination of our core capabilities and our excellent products.
All the members of our company intend to continue our efforts to earn trust and confidence widely from stakeholders and related members of society. We hope that we could receive your kind support and encouragement continuously.
eBrace CEO Frank Huang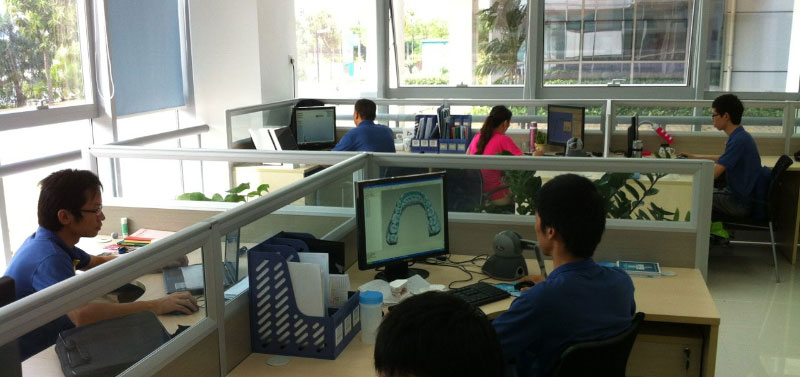 ラボではCAD/CAMコンピュータでのセットアップの作業が行われ、患者さんにあったブラケットをデザインします。